Anyone looking at this post thinking, "Ooooh, DC Comics. This is a surprise topic…" I'm sorry to disappoint you. Figured I should set the record straight.
Instead this is a little venture down memory lane.
Everyone has grandparents. Some of us were with them all the time, some of us saw them occasionally, and some of us never got the chance to know them at all. I was lucky to have all of my grandparents until my 40's. I never got to know one of my grandfathers, so there was only one in my life.
Some of you on here knew him. He was well known in Welland, Ontario where he spent most of his life. He was practically famous where he and my grandmother retired to in Parry Sound and surrounding rural towns. He went by many monikers (including the improbable Sheikh of Ardbeg), but to most he was known as Big John. To me he was just Papa.
This story unfolds in the years that my grandparents were restoring (making habitable?) an old shanty house and barn on the 100 acres of property they bought for retirement up north. Parry Sound, or more accurately Ardbeg- a blink and you'll miss it hamlet, was always referred to as 'Up North' for my family. They would go back and forth and work on getting it fit for a permanent move. My parents would take us up there for weekends to go fishing, run around the wood trails my papa had made. Dad would chop cords of wood to get ready for winter. We'd battle black flies in the summer, and rely on the cast iron wood stove to keep us warm in the brutal winters. In the early years there was no indoor plumbing. But back and forth my grandparents went until the house was ready for them to stay full time.
Being the hearty 'pioneers' that they were, the move was final when there was still an outhouse in operation. You never forget your first winter night run clutching a cardboard cutout to keep your ass from freezing to the seat while navigating four foot deep snow paths.
One of the early summers after the big move we were visiting and my sister and I were in bed. My parents were playing cards with Nanny and Papa. This was always a heated affair accompanied by a lot of swearing in Hungarian/Italian/various European languages and a lot of rum and coke. Always the men versus the ladies with much verbal abuse and spousal wisecracks.
Suddenly, there was a lot of shouting (more swearing) and Val and I just figured this was a particularly close game of 500. Not so. Instead a winged intruder swept through our bedroom followed closely by the men waving and flapping their arms. This bat had apparently come from the loft which was a makeshift bedroom. Eventually it was caught and in my mind it was gently released back to the wild. *chin stroke*
The next day, my dad and Papa took it upon themselves to check out the loft and also got on top of the roof. The roof at this time was corrugated aluminium, it was summer, and the metal got hot. As they shuffled their way around on the roof, a bat flew out from under one of the wavy metal ridges at the disturbance. Bolstered by this, they began to bang on the metal roof. When I say a bunch of bats came flying out in the middle of the day, I actually mean an entire colony.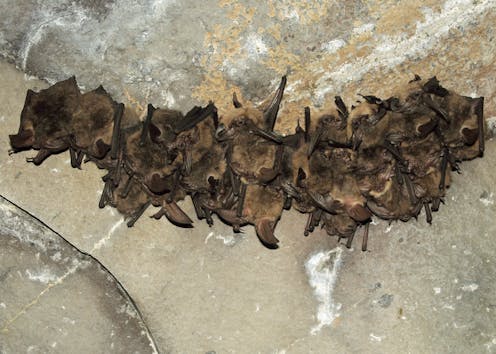 Feeling flush with success, we thought the bat problem was over. And indeed it was, except that a week later the neighbour across the road stopped by to say they suddenly had a bat problem in their barn. Papa said, "Well isn't that a shame?" and never let on that our newly dispersed colony were the likely culprits to take up residence with the folks across the way. Friends of my Nanny and Papa took to teasing him and calling him Batman.
When the time came to bring in a NEW outhouse to replace the old rickety one my Papa was driving up the busy 400 highway with his pickup and it strapped in the open back cab. This particular journey didn't go to plan. Oh sure, the outhouse made it Up North, but not before falling off the truck and getting stranded on the 400 causing much chaos and another story to regale people with.
The outhouse was christened 'Batman's Tollbooth'. It had a custom sign hammered onto the door and there it remained until the plumbing was finally installed and the tollbooth had its last cardboard visitor.
I could tell a thousand stories about my Papa. Anyone who knew him could tell you he always had some yarn to tell, some jokes that were often (always?) inappropriate. He was a Tiger Moth pilot and instructor in the war, a hunter, a true outdoorsman, fisherman extraordinaire, naturalist, and a character who cared deeply for his family. A machinist by trade, he always had little gadgets and things from his tinkering. He loved his Labrador dogs that he and my Nanny bred into a championship kennel. I always looked forward to the puppy love on our later visits.
He would trick my sister and I when we were little at Easter by running to the window and shouting that he had just seen the biggest rabbit in the front garden and for someone to go and grab his shotgun. We knew he was teasing, but would still run outside hoping to see this rabbit (and pray he didn't shoot it) only to find an elaborate easter egg trail.
He rigged some old sleigh bells in the basement to jingle with a cord up on the ground floor one Christmas. I was at the age where I knew Santa wasn't real, but still…I counted all the people in room and found everyone to be present and correct. Part of me wanted to believe in the magic, because Papa knew how to tell a story and hold court with an audience.
I'll sign off this post with an acknowledgement that tomorrow is September 11th, a date that has a lot of resonance for a lot of people for so many reasons. It takes on an additional meaning for me because that is the date we lost Papa back in 2015, almost two years apart but for a few days from when we lost my Nanny in 2013.
Papa will be in many peoples thoughts tomorrow. Big John left a huge void in our lives along with Nanny. Along with the numerous memories I cherish, a little part of me will still think of him as Batman forever too.